BELOW IS THE 12/31/17 LINE-UP
NYE 2019 DETAILS POSTED SOON!
The musical entertainment at the D-Drop features musicians and singers who have played or
sung for Lady Gaga, The Four Tops, Kem, Kimmie Horne, The Infatuations, Jena Irene, and more.
MAIN STAGE
6:45pm-12:30am
Martha Reeves
The Motor City All Stars
The Detroit Funk Band
The Motown Memories Band
The Luther Keith Blues Band
Danielle Bahoora
Sydney Alton
DJ RC
MOTOWN COUNTDOWN STAGE
4pm-1am
4-7pm: Pavilion is free & family friendly
8pm-1am: Motown Countdown
the Official VIP Party of THE DROP
Featuring Music By:
The Tosha Owens Blues Band
DJ Chris
THE CELEBRATION STAGE
4pm-1am
4-7pm: Pavilion is free & family friendly
8pm-1am: The Celebration
Detroit's Newest NYE Event!
Featuring Music By:
Core Four
DJ N.W. 45
KIDS ZONE
4pm-7pm | Kids' Drop 6:30pm

Balloon Animals
Kid's Karaoke
Face Painting
Detroit Youth Choir
Ghostbusters Detroit
Vibe Man
ADDITIONAL ENTERTAINMENT
& ACTIVITIES

Light Up Detroit Lighting Spectacle
Non-Alcoholic & Adult Beverages
Food Trucks & Vendors
Detroit Kryo Man
Fire Pits
THE DROP EVENING HOSTS

KIDS' DROP HOST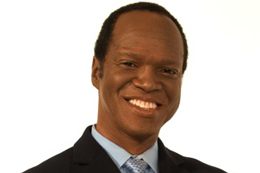 LEE THOMAS
Lee is an author, motivational speaker and an Emmy award-winning anchor and entertainment reporter for WJBK FOX 2 News in Southfield, Michigan
THE DROP HOST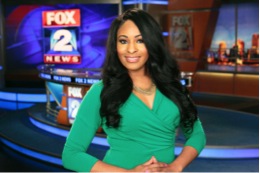 MAURIELLE LUE
Maurielle is an Emmy Award – Winning Reporter and Morning News Anchor at Fox 2 News. You can find Maurielle covering Breaking News or Hosting 'The NINE' or 'Let it Rip weekend.
ABOUT THE DROP ENTERTAINMENT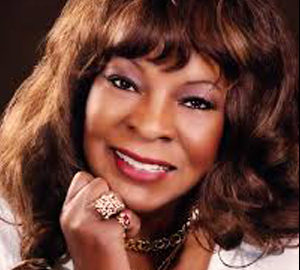 MARTHA REEVES
Motown recording legend, Martha Reeves, is the featured musical artist for the 8th Annual New Year's Eve D-Drop. She will perform her iconic Motown song, "Dancing in the Street", and then follow it up with a special performance of the "Light Up Detroit" theme song shortly before midnight.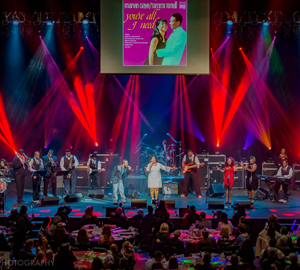 MOTOR CITY ALL STARS BAND
Kern Brantley, former bass player for Lady Gaga and former music director for Beyoncé, Destiny's Child and Ne-Yo, will lead 9 elite musicians and singers for two hot music sets at 10 pm and 11 pm heading right up to "THE DROP". They're gonna rock Beacon Park!
LUTHER KEITH BLUES BAND
Luther Keith is a veteran Blues
guitarist who lays down Blues
rhythms like no one around.
He has been nominated for 5
Detroit Music Awards and has
produced 4 albums. His band
is ready to treat you to some
fabulous Blues music.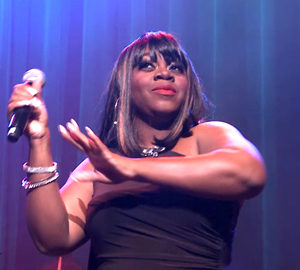 MOTOWN MEMORIES BAND
Led by renowned vocalist,
Athena Johnson, this group will
treat the audience to hit songs
by The Supremes, The Four
Tops, Stevie Wonder, The
Jackson 5, The Temptations,
and more. "Get Ready" cuz
here they come!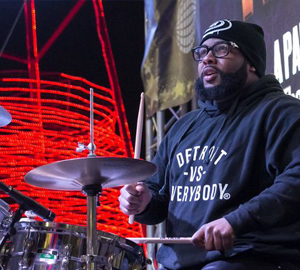 DETROIT FUNK BAND
Led by Kyle Wright, drummer
for The Four Tops, this band
plays hot Funk and R&B songs
on the Top 40 charts. It also
features Turhan VanDyke, the
keyboardist for The Four Tops
so you can bet that these
two will rock Beacon Park.

DJ RC
DJ RC is a seasoned entertainer in Metro Detroit as he has performed at over 1,500 events in two decades. He has shared the stage with such artists as Pitbull, Kid Rock and Fat Joe and is a featured DJ at Greektown Casino-Hotel in Downtown Detroit.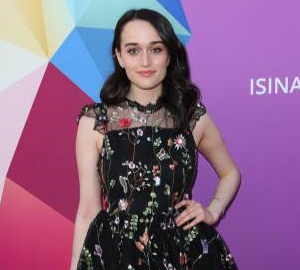 SYDNEY ALTON
Sydney is a Singer, Songwriter
and Actress from Metro-Detroit.
She has appeared on Radio
Disney and she has just
released a fabulous new Pop
song entitled, "Up For Air",
which is sure to be a big hit
among her many fans.
N.W.45
N.W.45 is a semi-retired nightlife host and songwriter , producer , programmer and can sometimes get the label media mogul for placing his ideas in all aspects of entertainment.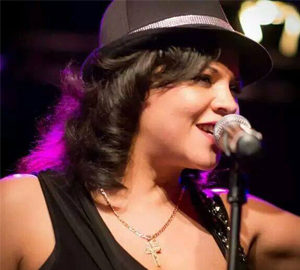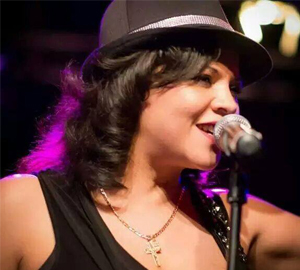 TOSHA OWENS
From her trademark fedora hat to her marvelous mix of Blues, Rock, Funk, and R&B, Detroit singer Tosha Owens has the word 'performer' written all over her. Tosha will perform on the "Motown Countdown" indoor pavilion stage.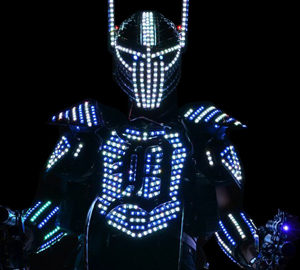 DETROIT KRYO MAN
Detroit Kryo Man is an 8-foot
robot-like character laden
with hundreds of LED lights.
He's equipped with a pair of
hi-tech spray nozzles that
will release pyrotechnics and
smoke while he dances to
the music at The D-Drop.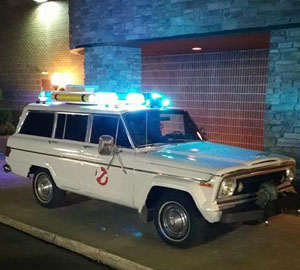 GHOSTBUSTERS DETROIT
Ghostbusters Detroit is a group of dedicate and devoted Ghostbuster fans in the Metro Detroit area. They dress in full uniform complete with proton packs, movie replicated props, and ghost hunting equipment. Operating strictly on a non for profit and volunteer basis at comic cons, parades, charity, and special events in and around the city.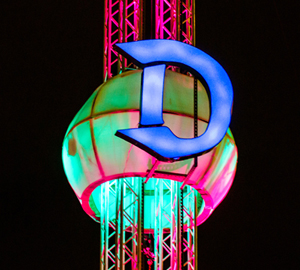 STORY OF THE "D"
The iconic "D" was first created in 2010 and has been redesigned a few times. It sits atop a 120-foot aluminum tower wrapped in a spherical ball that is illuminated and animated. Atop the tower is a curtain of pyrotechnic effects that ignites 30-seconds before midnight as the "D" makes its final descent. It's a dramatic, colorful sight!